Custom WordPress Development Services That Convert
Harness the power of the world's most powerful Content Management System (CMS), offering ready-made plugins, templates, and unmatched functionality and features.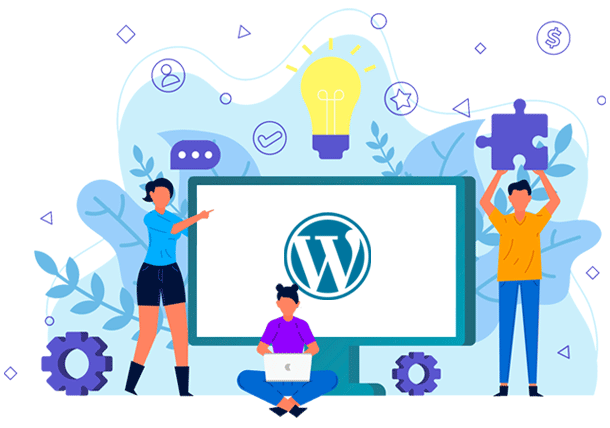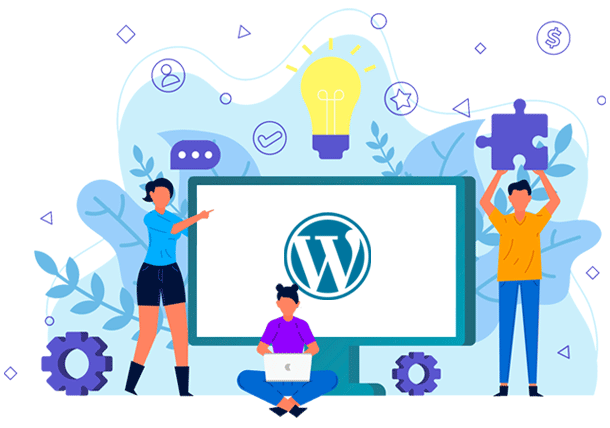 Custom WordPress Development Services That Convert
Harness the power of the world's most powerful Content Management System (CMS), offering ready-made plugins, templates, and unmatched functionality and features.
Top Five Reasons to Choose WordPress
Selecting a competent CMS for your online business is as vital as selecting excellent gas for your vehicle. It is what keeps it going! WordPress CMS functionalities allow you to upload, manage, and publish all of the material on your website. It functions as your website's heart, brain, and backbone. It indexes and organises your content, making it simple for search engines to crawl and get user-requested information.
When looking for a robust digital solution for your online business, WordPress can offer everything you need to flourish your business today and tomorrow. WordPress not only provides the greatest value, but also the most adaptable, feature-rich, and future-proof option for aspiring businesses.Get your website powered with WordPress by us and enjoy long-term business sustenance.
Are you looking to get your personal or commercial website developed? The features/ functionalities WordPress offers, combined with our years of experience in custom and responsive website development enable us to deliver online presences that convert like crazy!
WordPress is a free and open-source platform for building websites. WordPress Web Design & Development Services has gained popularity now! From a rather technical perspective, WordPress is a PHP-based content management system (CMS) that makes use of a MySQL database. In layman's terms, WordPress is the most user-friendly and versatile website builder available today.
WordPress is a fantastic custom website development platform for a wide range of websites. WordPress is a flexible CMS used for everything from portfolio websites, business, and e-commerce, to blogging. WordPress is a wonderful choice for all types of websites since it was designed with flexibility and usability in mind.
Why is WordPress Popular?
WordPress has developed into a sophisticated website builder and a strong CMS. WordPress is simple to use and versatile enough to create a variety of websites. That is the primary reason behind WordPress's rapid growth. Looking for a WordPress-powered website? Here is why WordPress is loved by many, and how Erico IT Services, Queensland based one of the best WordPress Website Development Service Provider in Australia can help you.
WordPress is Completely Customizable
WordPress is Safe and Secure
WordPress is SEO Friendly
Custom WordPress Development Services 
One of the top custom WordPress development companies in Queensland, Australia offering end-to-end development services on the most commonly used content management system in the world. Our team has years of practical experience in creating a range of web solutions tailored to the particular needs of your business. You can trust our qualified developers for high-quality WordPress powered ecommerce, blog & affiliate sites, and also to install and configure WordPress. Our suite of custom software development services is tailored by utilizing IT resources to the needs of your business. 
Hire WordPress Developers / Programmers 
                                                                              Erico IT Services is a marketplace to hire the best PHP/WordPress experts/developers, engineers, programmers, coders, architects and consultants. The best companies and start-ups hire Erico's PHP/ WordPress freelancers for their mission-critical software projects of CMS, an e-commerce store, ERPs, manufacturing, client relationship management systems or a web portal. The on-line website design suite is constantly updated with new practices and trends. We will keep all strictly confidential and are able to provide you within the deadline. We also provide the options to hire our dedicated WordPress programmers on weekly/monthly/hourly basis or as per the custom project requirements. 
Outsource WordPress Development 
Erico IT Services is Queensland based digital agency, well specialized in WordPress development, outsourcing solutions globally around USA, Australia and other countries. Executives of digital agencies and business people engaged in online marketing should know about outsourcing WordPress development. Outsourcing WordPress theme developers and WordPress Plugin Developers are a good option for employers looking for cheap and short-term work. Our outsourcing service allows you to build high performance and robust applications with better response time, quality and security. We are open for all small, medium-scale projects as well as for large enterprise level applications.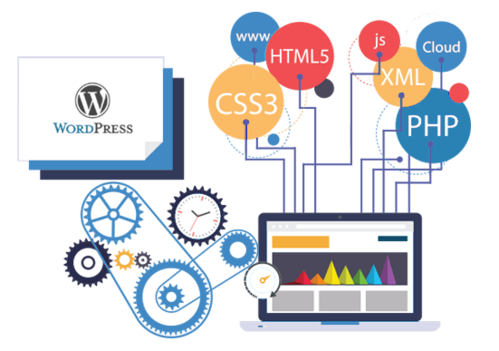 WordPress Website Development Features
WordPress is a dynamic semantic publication platform that includes a plethora of features and functionalities meant to make your user experience as simple, appealing, and pleasant as possible.WordPress is a free, light, fast, standards-compliant, freely-distributed content management system with sensible default functionalities, and settings, offering a highly-configurable core.
Realize your Vision –
Empower Your Business with WordPress
Thousands of customizable themes to choose from – weekly new additions guaranteed.
Expert WordPress developers at your service – we are happy to help you anywhere, everywhere.
Mobile-friendly website development is just a click away – select themes that look good every day.
Experienced WordPress Design & Development Solutions
Erico's expertise in WordPress website design and development includes:
CUSTOM THEME CODING (JAVASCRIPT/JQUERY, CSS, HTML)
RESPONSIVE WEB DESIGN/ MOBILE COMPATIBILITY
SEAMLESS DEVELOPMENT/ INTEGRATION OF WORDPRESS PLUGINS
SEAMLESS INTEGRATION OF THIRD-PARTY TOOLS
SEARCH ENGINE OPTIMIZATION (SEO)
WEB INFORMATION ARCHITECTURE
WORDPRESS MAINTENANCE AND SECURITY
WORDPRESS WEBSITE PROJECT MANAGEMENT
WORDPRESS WEBSITE SUPPORT AND HOSTING
Result-oriented WordPress Web App Design &Development Solutions
Erico harnesses the power of sophisticated web app development solutions powered by WordPress to brainstorm, design, develop, and deploy actionable web-based applications for your business.