Outsourcing – Cost-effective & Scalable Core Business Development Opportunity
Increased business flexibility to meet evolving commercial conditions and exclusive business needs every day.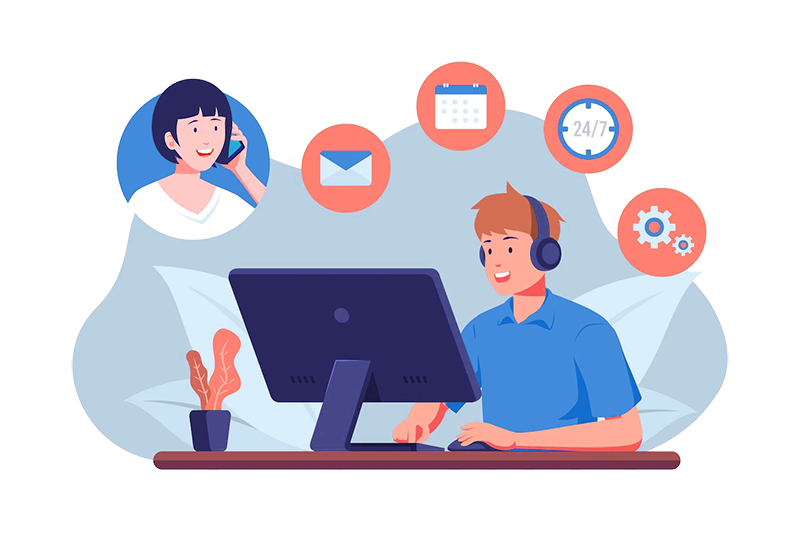 Provide employment flexibility
Keep up operational control
Encourage business growth
Develop internal employees
Concentrate on essential tasks
For small to big businesses, you may outsource to freelance contractors or other huge organizations. Contracting out operational chores can bring a number of advantages regardless of the size of the company with which you operate. Outsourcing enables you to:
Businesses that are growing frequently discover that they would benefit from getting new workers on board but cannot afford the costs linked with employing and sustaining more full-time workers. This inhibits your business's potential for expansion and kills any momentum it has gained. Some businesses may take a chance and recruit new employees, only to discover that risking does not always pay off. Instead of expanding slowly, they have reverted their expansion.
It is indeed a great feeling knowing that your organization keeps robust growth while retaining your core work crew fixated on internal tasks because it's less expensive to offshore the project than it would be to develop your in-house team because you can revoke an agreement or contract without needing to destroy employment opportunities for people.
Outsourcing is the practise of engaging a third party to create goods or provide services that were previously done in-house by the company staff. Outsourcing is a method that is commonly used by businesses to save money. The process of contracting an external firm as a contracted partner to work and manage website development work is referred to as outsourcing web development company. It should come as no surprise that an increasing number of businesses, start-ups, and SMBs opt to outsource duties like web design to an external team of experts.
Why is Outsourcing Popular?
The rapid pace of digitalization and the broad acceptance of remote work in businesses are the two primary reasons driving the increase in outsourcing. They have not only rendered outsourcing appealing, but also simpler for businesses trying to save expenses, better service customers, and encourage innovation. Outsourcing is used by businesses to reduce labour expenditures such as employee pay, overhead expenses, technology. Companies also exploit outsourcing to scale back and refocus on the fundamental components of their business, offloading less vital business processes to third-party agencies.
Outsourcing vs In-House Development
In-house software engineering entails developing software by using the capabilities of your internal staff. Outsourcing implies artnering with a third-party source with professional expertise to build your project swiftly and efficiently. In-house development essentially refers to creating software with the help of professionals at your organisation. You do not receive any outside assistance; every one of the software engineer works for you and do their given responsibilities.
To make the ultimate decision between outsourcing and in-house software development, you must answer five questions:
Is this a long-term or a one-time activity , scalable project?
Do you want to create a product that will directly generate revenue for you, or do you simply require a website or an app to facilitate internal processes?
Is market entry speed crucial to you?
Do you have a large number of qualified software developers near your place of operations?
Is your annual project budget greater than $110,000?
With the solutions to the concerns, one can make an educated and informed choice. Whether you have opted to employ software outsourcing, we are always available to assist you with software development outsourcing.
Top 5 Reasons to Choose Outsourcing Vs In-House
Outsourcing a project or a task might be less expensive than doing it in-house.
It's especially worthwhile if you subcontract to someone else in a low country nation. Their hourly fees may be lesser than those of your in-house staff.
It takes time to build an in-house workforce. Every time you want to employ new team members, you must go through a long hiring procedure.
Outsourcing jobs to other organisations might assist you in obtaining the services you want more rapidly.
Their working hours are determined by your project need. It is okay to allocate 20 work hours in the week and 10 hours the next week. Unless you do not really require assistance until the month end, simply interact with outsourcing providers at that time.
There are numerous agencies and freelancers available. Most of them focus on one type of job, while others can handle a variety of assignments.
It will not be difficult for you to locate a professional contractor who can execute whatever job you have in mind. In truth, specialists with in-depth, detailed expertise, that your staff lack, may be found as third-party contractors.
 Your marketing staff, for example, is undoubtedly capable of handling a wide range of strategies, but a contractor that focuses solely in Amazon sales is likely to get superior results in one area.
With the proviso that each business's demands varies in terms of the activities that must be accomplished and the positions that must be filled, below are a few role types that must be outsourced:
Marketing: This encompasses search marketing, SEO, content, social media, email, and inbound marketing. 
Website: Contracting your web design and development helps you to stay competitive, exercise best-practices, while sparing you endless hours churning pixels.